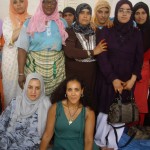 Hello Beautiful Friends,
I felt like Oprah Winfrey at the women Cooperative in Arazane, Morocco. I met, talked, listened, and donated funds to the women who crack the Argan tree seeds and cold press the Organic Argan Oil for Pure Moroccan Beauty Oils.
Stay tuned for some pictures and videos on this page.
Life is very hard in some part of the world. Seeing this first hand, really changes your whole perspective on your own life and on the significance of your everyday complaints.
I love my life and the feeling I can bring micro social change into the lives of these women who live in circumstances beyond the comprehension of many people.
I hope you will join me in changing these women lives. Their stories will be behind each Argan oil product I will offer.
With Love & Gratitude
—
"be generously beautiful"
LIKE my Pure Moroccan Beauty page on Facebook: www.facebook.com/KFAJRY