THE NEW STARTUP MATH
INC. Magazine – October 2014
An analysis of the data generated by the Kauffman Foundation's Firm Survey (one of the longest and largest studies ever of privately owned startups) shows that KENZA International Beauty has several of the key factors for thriving over the next three years (we just had our second anniversary in September).
However, as shown by the study, having a higher level of capital would greatly improve the chances for growing into our fifth year. This is where you can help tilt the odds in our favor by voting for us.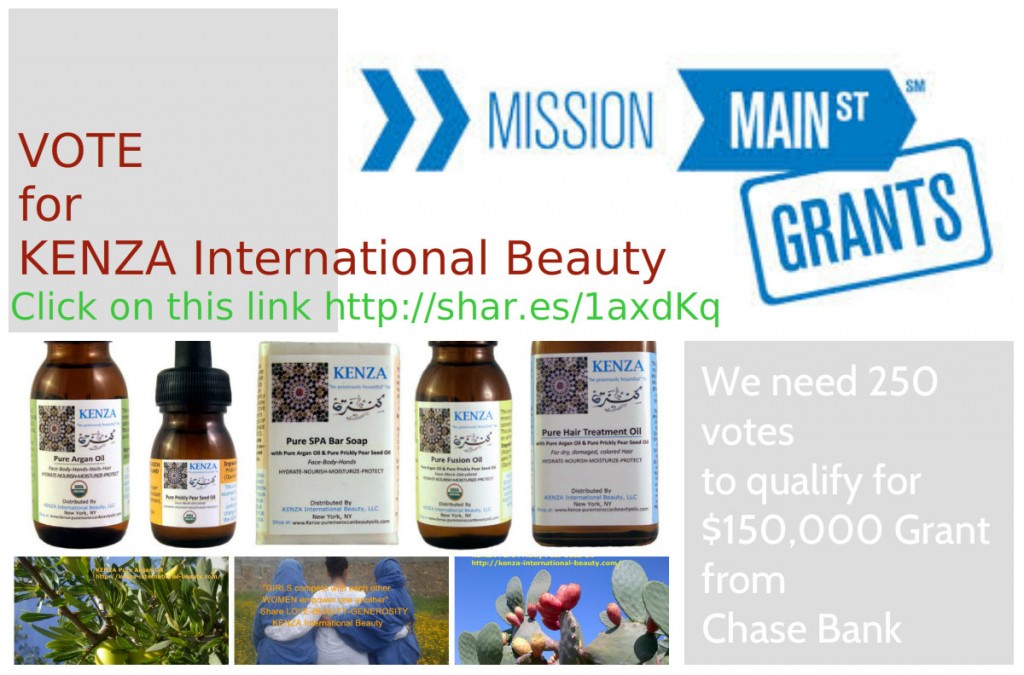 This year we are participating in the $150,000 CHASE Mission Main Street Grant for small businesses and we need 250 votes to qualify. You can vote for KENZA International Beauty at this link: http://shar.es/1axhM5
The CHASE grant would help us bring our business to the next level. It would allow us to introduce new beauty products, invest in marketing, upgrade and optimize our website, develop our wholesale business, and perhaps even hire staff. In the end, the grant would help us generate more sales and, consequently, our support for women.
The INC. magazine charts summarize the effect of various factors (gender, age, race, amount of startup capital, and intellectual property) on company outcomes: survival, closure, or merge/acquisition after five years.
Some of the results:
-Companies with the highest level of startup capital (more than $100,000) had the highest chance for survival (about 64%).
– While the sample group had three times as many companies founded by men as by women, there was no statistical difference between male- and female-led companies outcome (about 58% were in business after five years while another 5% had merged with other companies)
– The highest five-year survival rate (about 60%) was for companies founded by people in their 40s (as myself)
– intellectual property had no significant effect on company outcome
Discover Posted on Tags beauty, business, chase, chase small business, KENZA International Beauty, mission main street grant, MOROCCAN OILS, philanthropy. generosity, small business, social enterprise, vote1 Comment on Can a Social Enterprise Thrive?