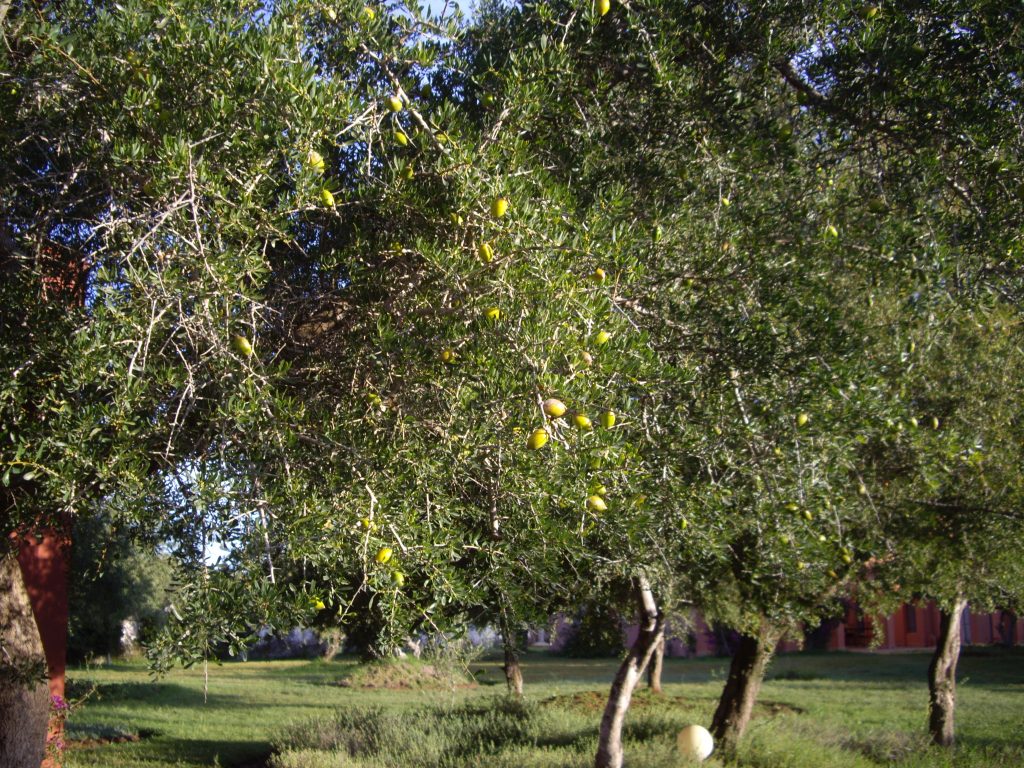 MAY 10TH IS INTERNATIONAL ARGANIA DAY
Did you know that May 10th is International Argania Day?
The decision was adopted by the United Nations in March 2021 to recognize, celebrate, and honor Argan for its medicinal, cosmetics, and cooking benefits. As well as the social, economic, and environmental impact.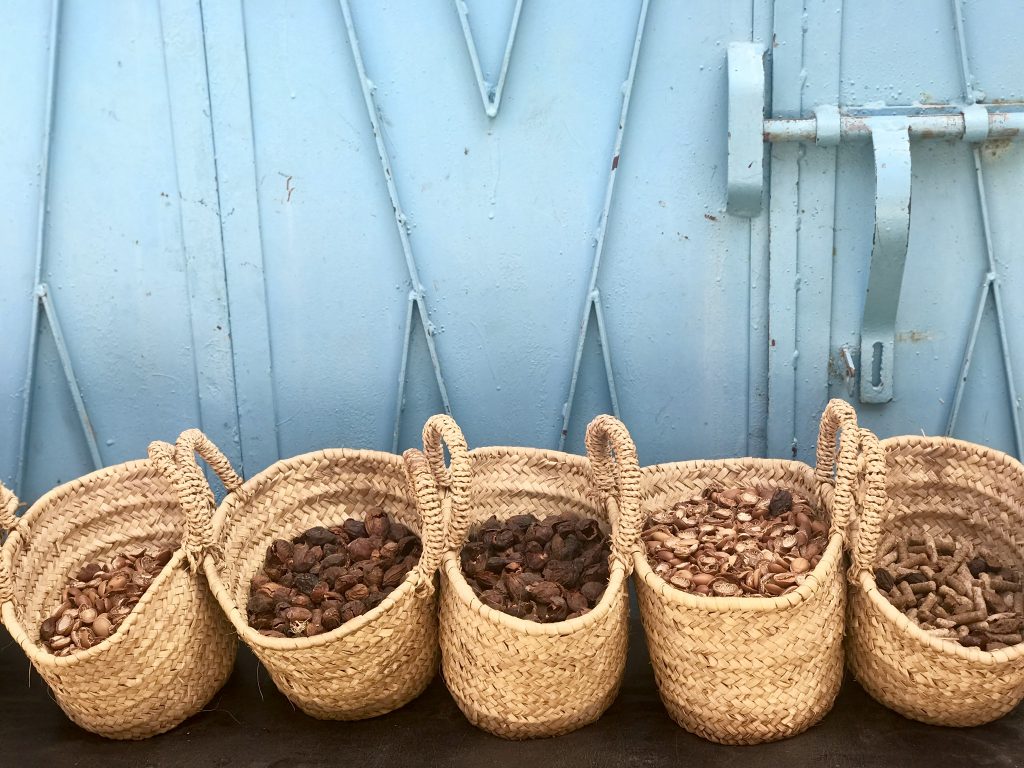 Argan oil production in Morocco and other countries, operated primarily by women, is worthy of this attention, including for its role in realizing the Sustainable Development Goals.
By marking the day, the United Nations will honour the role of women, farmers and entrepreneurs", read the document.
The resolution is also aligned with the United Nations Educational Scientific and Cultural Organization (UNESCO) that has classified all know-how concerning the argan tree as an intangible cultural heritage of humanity in 2014.
"In recent years, world-wide demand for argan oil has been increasing. The beauty industry hails its moisturizing and anti-ageing effects, and the food industry praises it as a delicacy that is good for the heart and prevents cancer." – FAO welcomes the International UN International Day of Argania
The Moroccan Argan trees have been cultivated by the Berber people since the 13th century and can be found in the southern part of Morocco (From Essaouira to Agadir).
Argan oil (Argana Spinoza Kernel oil is the INCI Latin name you should be looking for when buying authentic Moroccan Argan oil) is extracted from kernels that are cold-pressed. The kernels are tiny flat, white nuts that resemble silvered almonds, found inside the argan nuts after being meticulously cracked by hand by Moroccan Berber women.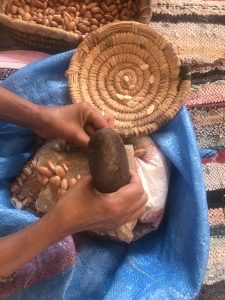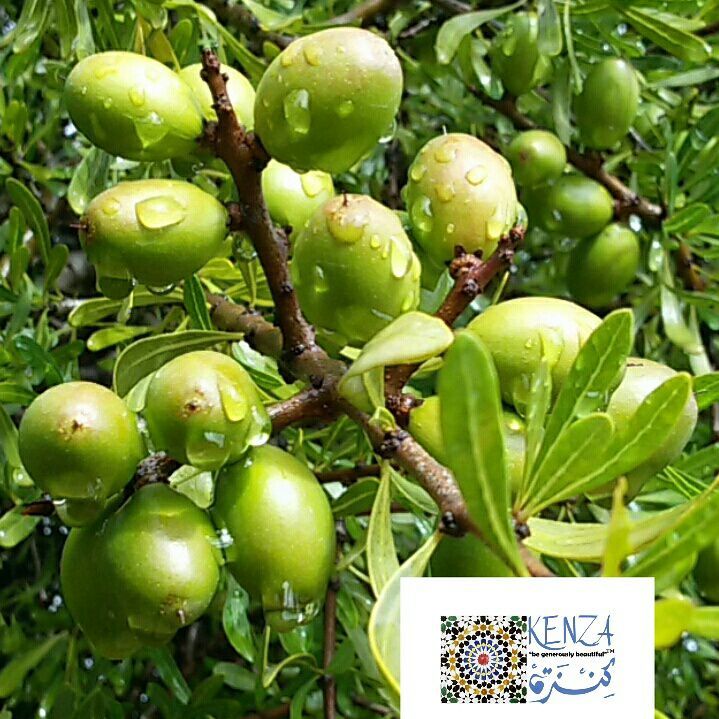 What is argan oil?
Argan oil is one of the rarest oils in the world and is hailed as the "liquid gold" of Morocco. It has multiple uses in cooking, medicines, and cosmetics. Its ability to prevent cardiovascular diseases and its benefits for the skin are scientifically recognized. Rural women lead the entire extraction process through knowledge transmitted from one generation to the next. – The multifaceted argan tree
Did you know?
* The argan tree withstands temperatures of up to 50° Celsius.
* The argan trees are a true bastion against desertification, which can reach 10 meters in height and can live for 200 years.
* A symbol of eternity and resistance, the argan tree has a strong symbolic and emotional value for local communities.
* Argan oil is given as a wedding gift and is used extensively in the preparation of festive dishes.
It takes about 150 kg of fruit to produce 3 litres of argan oil.
Reference: International Day of Argania 10 May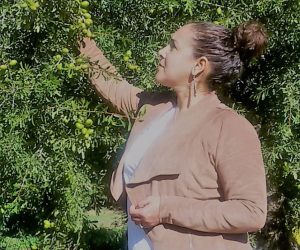 As a social enterprise supporting social change for women in Morocco and in the United States, we will focus on the social benefits that Argan has provided to women in Morocco in the last two decades.
Moroccan Argan Oil and Social Change For Women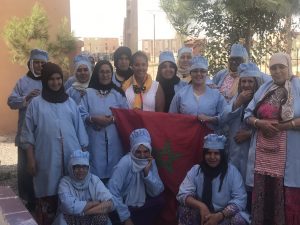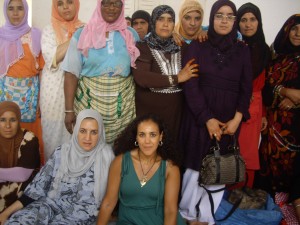 Argan oil also called Moroccan oil is the liquid gold that enabled the social development for women in rural areas in Morocco. After the booming demand for this Moroccan treasure by the beauty and culinary industries, women cooperatives were initiated with the help of Professor Zoubida Charouf and the Moroccan government.
Women got organized to form cooperatives, shared their ancestral skills of cracking one of the hardest nuts to crack, produce cosmetic and culinary Argan oil for the world to enjoy.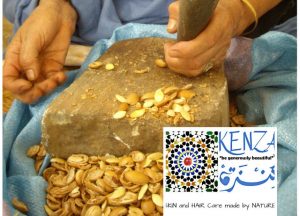 A woman, especially in rural areas, was not supposed to work outside her home. She was still making the liquid gold at home and letting her husband or brother sell it. When the first cooperatives were created married women were hesitant to take the first step to social independence. But once they started to help and provide for their family in conjunction with their spouses it became a little easier to accept this social change.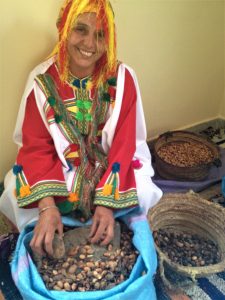 Watch this video – PAMPAT – Argan oil and the changing role of women in society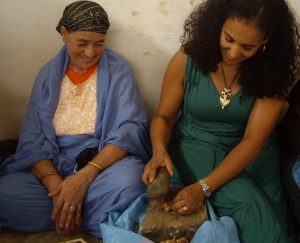 When we visited Cooperative Tirizite in Arazane Morocco back in 2012 we met many widows, divorced, single women, working at the cooperative.
They were provided with tools, machinery, literacy education, and training to help them use their skills and crafts to gain financial and social independence.
Initiative National Pour le Development Humain – National Human Development Initiative
In the past nine years, we have noticed the real progress and success of cooperative Tirizite in Arazane Morocco. When they started around 2012 all they were doing was producing Argan oil in bulk and selling it locally.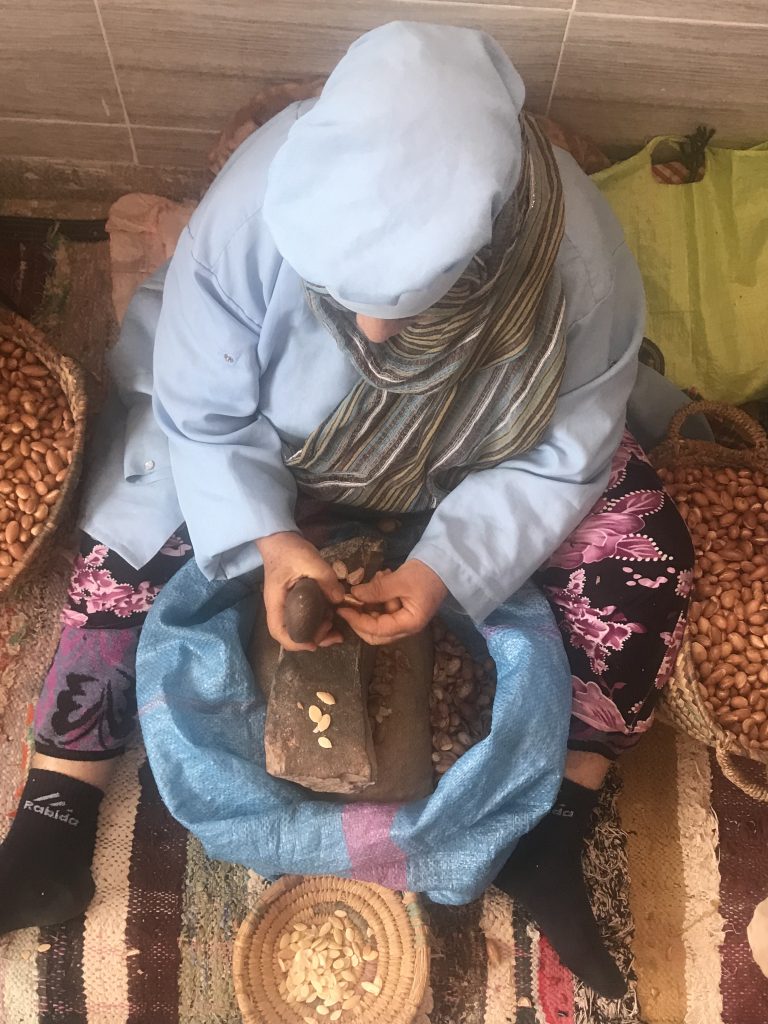 With training, seminars, and conferences they learned to make their craft a sustainable business offering a variety of beauty products made with Argan oil. They even got to participate in national and international fairs to promote their Argan products.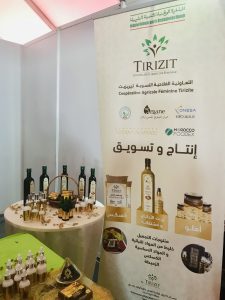 For sure we have witnessed a real progression and improvement in their livelihood but more can still be done to enable them to reach a bigger market and receive their fair share of this very profitable beauty business.
We hope that International Argania day and initiatives lead by the United Nations will bring more awareness on what can be improved so no one is left out.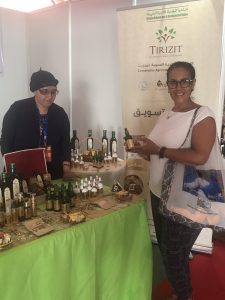 Also, a focus should be made in investing in education for girls in rural areas in the fields of Business Management, Marketing, Technology, International Business, Graphic Design in order to get them involved in expanding the capacity of reaching international markets.
Value-added argan oil increasing women's independence in rural Morocco
As a small business, a social enterprise, we've been trying to do our best to provide help with our donations to this small cooperative but we can certainly do more.
The Berber women should be recognized for their skills and given more opportunities.
And we should all enjoy the precious Moroccan Argan oil responsibly.
The Argan forest should be preserved and our Argan trees cherished for all it has given us.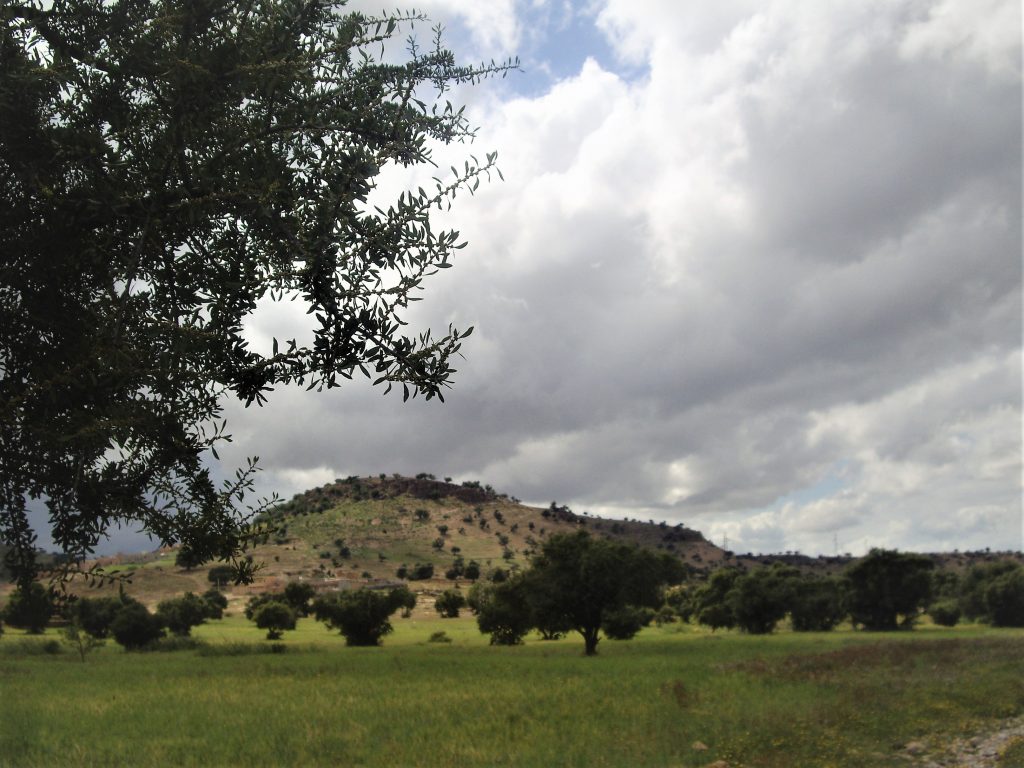 Arganeraie Biosphere Reserve, Morocco
The Argan Tree Becomes King Of The Forests – Newsbeezer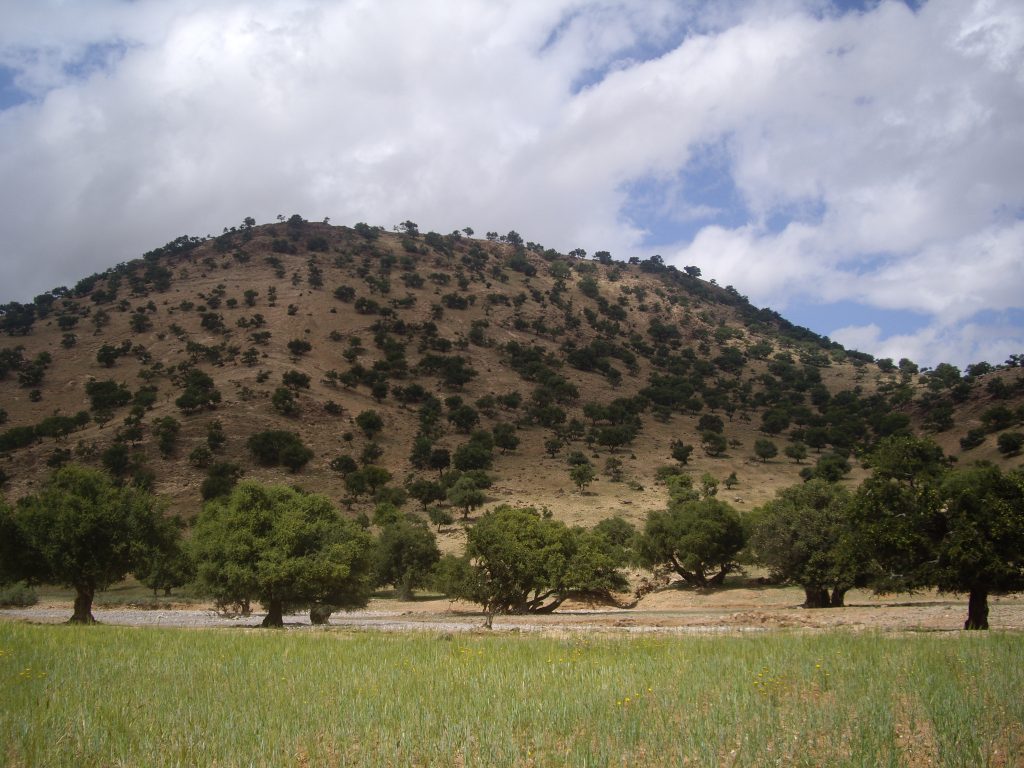 The United Nations Educational Scientific and Cultural Organization (UNESCO) designated in 1988 the endemic production area as the Arganeraie Biosphere Reserve. Also, all know-how concerning the argan tree was inscribed in 2014 on the UNESCO Representative List of the Intangible Cultural Heritage of Humanity.
Moreover, in December 2018, FAO recognized the Argan-based agro-sylvo-pastoral system within the area of Ait Souab – Ait Mansour in Morocco as a Globally Important Agricultural Heritage System.
And lastly, in 2021, the United Nations General Assembly proclaimed 10 May the International Day of Argania. The resolution, submitted by Morocco, was co-sponsored by 113 member states of the United Nations and adopted by consensus. – International Day of Argania 10 May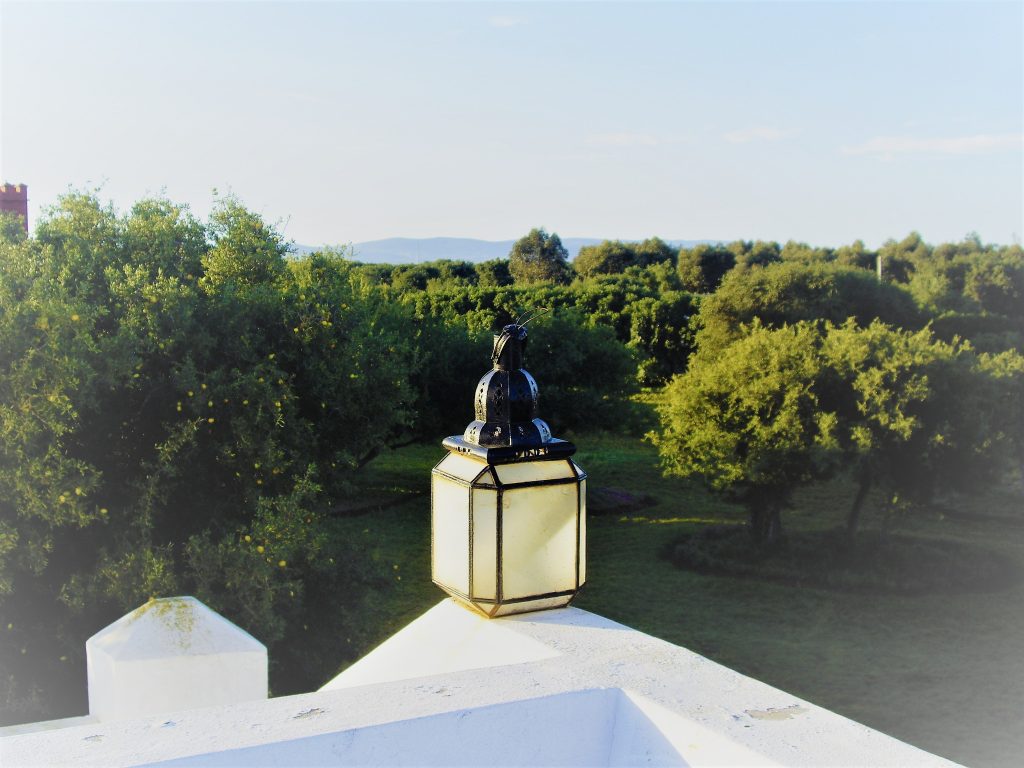 All pictures are the propriety of © KENZA Internationa Beauty LLC
All rights reserved – KENZA International Beauty New York