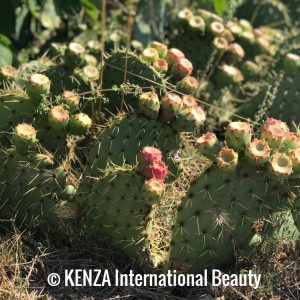 Although I have used Argan Oil for many years, I have to admit that it was not until earlier this year that I discovered Pure Prickly Pear Seed oil. This happens to be another beauty treasure from my native country of Morocco and which Europeans have been crazy about for many years already. It is a potent antioxidant beauty oil that it is currently the most sought after ingredient for the beauty and cosmetic industry.
Pure Prickly Pear Seed Oil is also one of the most expensive beauty oils in the world. Its production requires a labor intensive and time-consuming (up to four days) process manually handled by Moroccan women at cooperatives. The Prickly Pear seeds are separated from the pulp and are then dried before being cold pressed. Because each seed contains only 5% of oil, up to 60 lbs. of seeds (or half a ton of fruit) are required to yield about 34oz. of oil.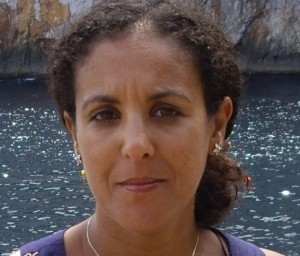 Prickly Pear Seed Oil has a high concentrations of Tocopherol (Vitamin E) and essential fatty acids (Linoleic Acid or Omega 6). This oil contains more Tocopherol (molecules with strong antioxidant and free radical scavenging properties) than any other oil available in the beauty care market (almost 1-1/2 times more Tocopherol than Argan oil).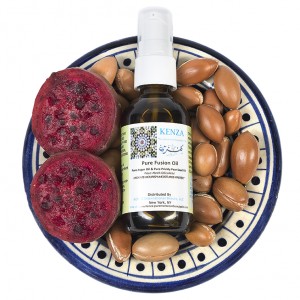 I am myself a user and a fan of this precious oil. I had two large dark spots on my face due to hyper-pigmentation. My dermatologist prescribed the usual chemical "bleaching" hydroquinone creams as treatment.
However, my face skin had a bad reaction to the creams and it turned dry, itchy, with red spots. I immediately stopped using the creams, canceled my follow up appointments, and instead decided to try this organic, pure, and natural product. I applied it religiously every night and, after a few months, I can show you that this precious oil does indeed work. My dark spots have diminished and my complexion is even and smooth. Also, my eye shadows are brighter while my skin is deeply moisturized and has a healthy, natural glow.
For people that, like me, have suffered from skin imperfections that make us feel uncomfortable, here is a completely natural product with exceptional components that, used in a concentrated form, will give you results.

In my opinion KENZA Pure Prickly Pear Seed Oil will revolutionize the beauty world. Not only it is inexpensive, but most importantly it is super safe to use.
KENZA Pure Prickly Pear Seed Oil is the flagship product of KENZA International Beauty. During my first trip to Morocco in behalf of KENZA International Beauty LLC, I was able to secure a reliable supplier of Pure Prickly Pear Seed Oil that will allow me to make it affordable and accessible to all of you. (Read my story in The Guardian Newspaper)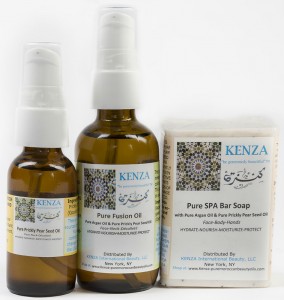 KENZA International Beauty offers 100% pure, USDA Organic Prickly Pear Seed oil in four products:
Share with us your skin concerns and questions about our Moroccan oils.
Be generously beautiful!
Khadija Fajry